Tuesday, June 19, 2007
[Wen Wei Po 20/06/07]
"Family Link" Stars Celebrate Success and Hope for Sequel
TVB series "The Family Link" reached an average of 38 points in its finale and peaked at 44 points, reaching the top average ratings for 2007 and to celebrate this, TVB spent a five figure sum on a banquet at the Royal Plaza hotel for the cast and crew to celebrate, totalling 11 tables. As well as the three 'housewives' Kiki Sheung, Sheren Tang and Cecilia Yip, their long suffering 'husbands' Al Wai, Michael Tse and Derek Kok joined producer Lam Chi Wah at the event and TVB Executives including Stephen Chan, Virginia Lok and Tommy Leung were also there to share the celebrations.
Asked whether they will be filming a sequel for this series, Kiki says that they could change it into a sitcom that focuses around the day-to-day events around the three ladies. Sheren smiles that she hopes to send her children away to boarding school for the sequel, then she can turn pretty again and follow her dreams and ambitions. As for Michael, he is also in favour of a sequel, because there are a lot of suitable topics in the press every day.
Talking of whether the hardest thing for a man to bear is finding his wife has been unfaithful, Michael says: "I think the most painful would be to see it with your own eyes rather than to hear about it. It would really hurt." Asked jokingly how he would react if it happened to him, Michael smiles that he is rather lucky and has never met with anything so terrible.
http://paper.wenweipo.com/2007/06/20/EN0706200003.htm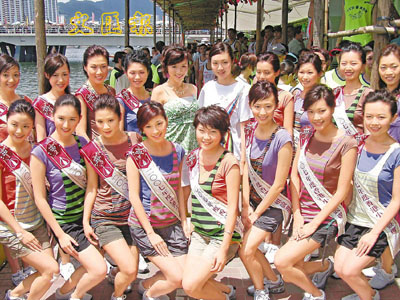 [Wen Wei Po 20/06/07]
Miss Hong Kong Contestants Watch Dragon Boat Races
At the dragon boat festival yesterday, the 16 Miss Hong Kong contestants were joined by last year's winners Aimee Chan, Janet Chow and Koni Lui at Shatin's Shing Mun River to watch the races and support the TVB team. Aimee indicates she has never paddled in a dragon boat before, but was the drummer once. Asked whether the men would paddle faster when she was beating the drum, she was a little embarrassed and smiled that she did not know.
Asked if she has been passing on her tips to this year's contestants, Aimee says that she told them that winning or losing is not important as long as they just be themselves and keep an open heart. This way they can be natural. Also, not to drink before bed to avoid looking puffy in the morning.
Koni says that there were a lot of people who called to her as 'The Puzzle Girl' after her character in her show, making her very happy. Many of the contestants indicated that this was their first time at the dragon boat races and only Number 11 Kendra Wong Chung Yin indicated that she once paddled in a dragon boat when she was studying in America, but she was very slow because she was not very rhythmic and afterwards, her arms were aching very badly.
http://paper.wenweipo.com/2007/06/20/EN0706200009.htm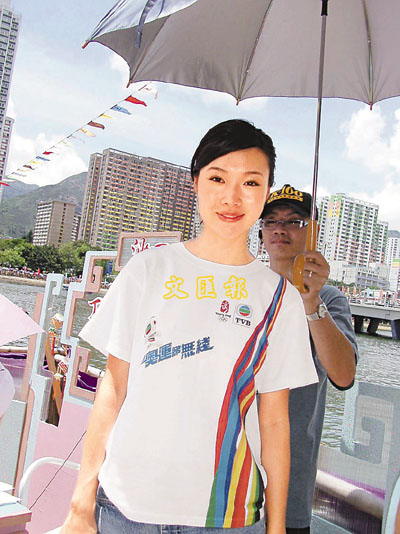 [Wen Wei Po 20/06/07]
Tracy Ip Has New Rumours Thanks to Sheila Chan
Tracy Ip was an MC yesterday at the Annual Dragon Boat race in Shatin yesterday and was asked about the recent reports suggesting that she had been out for a meal with Sheila Chan, Isabella Kau and a man, who Sheila and Isabella were 'introducing' to her [for favours]. Sheila had suggested afterwards that someone had tipped off the press about the meeting and that Tracy would not be attending anything similar again in the future, maybe hinting that it was Tracy who had tipped off the press. Asked abou this, Tracy said: "I do not think she is saying I tipped off the press and I did not. Anyway, this is very bad press and no-one wants this kind of news." Asked how the reporters found out about the meeting, Tracy said: "Maybe it was because I had been to a public event beforehand and then they followed me afterwards. I did not know about them at all." Asked if she knew she would be dining with a man beforehand, Tracy says that she knew that Sheila and Isabella would be bringing a friend, but she only found out it was a man when she got there.
http://paper.wenweipo.com/2007/06/20/EN0706200010.htm
Back to top