Monday, April 23, 2007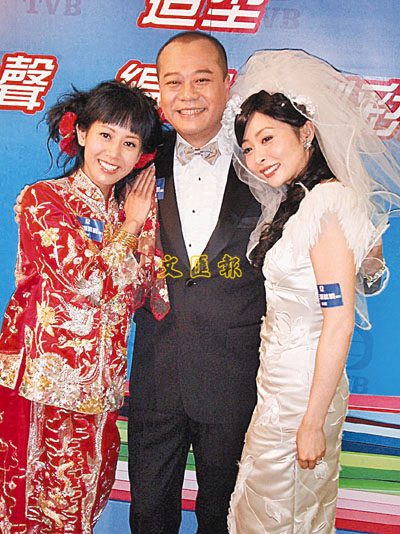 [Ta Kung Pao & Wen Wei Po 24/04/07]
Bobby Au Yeung Enjoys Two Wives
TVB's new series "Cold Encounters of the Third Kind" held a costume fitting ceremony yesterday as Toby Leung and Angela Tong appeared in Chinese and Western style wedding outfits. In his morning suit, Bobby Au Yeung can enjoy having two wives in this show because Angela is his wife, whilst Toby will be his mistress.
Bobby says that for the producer to arrange for him to pair with Toby, this is a great challenge for him. He smiles that maybe he will be the 'youngest' out of the whole cast. Asked if he will be pairing up with more young artistes in the future, he laughs that maybe there will be even younger ones in the future and he believes this is not a mistake by the company. When the reporters pointed out that he has the joy of both ladies, he indicates that this will be a comedy, so their relationship will be very clean and innocent. He says that he does not object to working with younger artistes. As for the earlier rumours that arose after Toby was spotted holding hands with Michael Miu, Bobby laughs: "We hold hands all the time. I hold her dad's hand with one and and her in the other as we cross the road." However, Bobby laughs that if he had children when he was 18, then his child would be Toby's age by now.
Toby indicates that in the show, she often has to wear short skirts and shorts to show off her figure and she will be fighting against Angela for Bobby's affections. Asked why she does not wear little tops, she says she will not and at most will wear a close fitting t-shirt, beucase she does not want to be embarrassed during filming and be unnatural. Asked if she will hold hands with Bobby, she smiles: "Yes, I will! Every day and even when we are eating. (Do you agree with finding romance late in life?) Age is not a problem, as long as he treats me well." Angela says that she finally has the chance to be the true wife in this show. As for the romance storyline between her and Raymond Wong in the show, she smiles: "Yummy yummy! (He is married though!) That's what makes him yummy, because I will never have him."
Raymond has recently signed an artiste contract with TVB and this will be his first series with them. He indicates that signing with TVB will be a change of working environment for him. As for the recent rumours that ATV are making big offers to attract talent, he says: "You can't compare. Money is not the most important thing and I see this as an investment. (TVB's pay is very slim!) It is okay and acceptable." As for his management contract, it is still with China Star.
http://www.takungpao.com.hk/news/07/04/24/UL-726210.htm
http://paper.wenweipo.com/2007/04/24/EN0704240021.htm
[Ta Kung Pao 24/04/07]
Myolie Suffers Swollen Knees to Shoot Sexy Photos
As spokesperson for a slimming company, Myolie Wu has successfully slimmed down to just 105 lbs and trashed the rumours that she was binge eating in Beijing. After slimming down, she is even more confident in herself because she has slimmed her body but not her bust, so she has achieved the figure of her dreams.
Myolie shot a set of sexy ads for her sponsors earlier and each of her looks was very alluring. Among them, the 'wild angel' and 'innocent devil' were the most daring. Myolie also complimented the looks with nearly a hundred pieces of her own jewellery and although she was kneeling until her knees were red and swollen, the beautiful outcome of her pictures made it all worth it.
When Myolie dressed as her 'innocent devil' look, she wore a super short skirt to show off her legs. For 'wild angel', she pushed herself to the limit and just wore a feather 'nu bra'. She smiles: "The nu-bra was very heavy and there was always a danger of it slipping downwards, so I was regretting it at the time. So when we started shooting and I put my hands down, the crew and I were all very nervous, so they completed the shoot in only three minutes." Also, she posed in an s-shaped curvy pose wearing an orange low cut top, showing off her great figure, beauty and femininity all at once.
http://www.takungpao.com.hk/news/07/04/24/UL-726220.htm
[Ta Kung Pao 24/04/07]
Shermon Tang Will Decide her Future in Three Years Time
Model Rosemary and Shermon Tang took part in a Trend Expo in a shopping mall yesterday, where they met Mak Ka Yan from the Hong Kong Equestrian Team, who demonstrated some manoevres. Shermon indicates that this is the first time she has learned to ride indoors, but she is not worried about any accidents and she was very happy to have so much fun. She feels that learning to ride will be useful when it comes to filming series and if she had space, she would like to own a horse, like overseas where there is more space, then owning a horse is like owning a dog.
Since finishing filming for "Welcome to the House", Shermon has not had any more work, but as this year's Miss Hong Kong pageant gets underway, is she worried about being replaced? She says she welcomes new blood into the organisation. She will give herself three years to see how she fares in showbiz and if it does not go well,then she will either go into children's business or become a flight attendant.
http://www.takungpao.com.hk/news/07/04/24/UL-726211.htm
Back to top