Sunday, February 18, 2007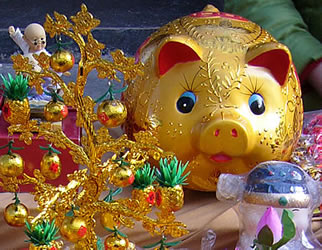 HAPPY NEW YEAR OF THE PIGGY!
Wishing everyone and your families Good Health, Prosperity and Happiness!
- Em & Ghosty
[The Sun 18/02/07]
Chinese New Year Greetings from Charmaine and Kevin
TVB's Best Actor and Best Actress Kevin Cheng and Charmaine Sheh have had a fruitful end to the year of the Dog and made a small fortune and they both hope that their luck will run into the new year. On the romance side though, they will go with the flow, Kevin says: "From the year before last, I started to buy plum blossom and people say that if you start, you have to carry on buying it every year. When I was younger I would pick at the petals and be scolded by my father!" Conversely, Charmaine does not buy blossom. As for romance, she says: "If I meet it, I will date, but I haven't met anyone yet." She also admits that she did think about marriage five or six years ago.
On this New Years Day, Charmaine will do TVB's Greeting Show, then go visiting and receiving lucky packets for some new year fortune. Kevin is in Las Vegas making some new year money in a stage performance. Talking of wishes for the year of the Pig, he says: "The most important thing is for good health and I hope to release a Mandarin Album." Charmaine says: "I am not greedy this year, I wish for good health."
Kevin and Charmaine wish everyone good health and smooth successes!
http://the-sun.on.cc/channels/ent/20070218/20070217233722_0000.html
[The Sun 18/02/07]
Louisa So Enjoys Receiving Lucky Packets
On New Years Eve yesterday, Beautiful Cooking Goddess Louisa So took part in a Vegetarian Dish Demonstration in Kowloon City Plaza and then she was presented with a lucky packet from the resident Fortune God for good luck. For the new year, she will be going to her boyfriend's family home to celebrate and asked if her family have rushed her to hurry up and hand out lucky packets [ie get married], she says: "No they haven't. They are very easy-going and I am still enjoying receiving them. (Do you plan to get married this year?) I will not plan especially, I like to just follow my instincts."
http://the-sun.on.cc/channels/ent/20070218/20070217233552_0000.html
[Oriental Daily 18/02/07]
Prosperity for Pig Year from Hacken, Andy and Eason
Andy Lau, Eason Chan and Hacken Lee are the leaders in the music industry and on this the first day of the new year,they hold up the lion heads to greet everyone and hope that all your wishes come true! The now married Hacken and Eason pull in the early fortunes as they each present Andy with their lucky packets!
Andy, Eason and Hacken are well at ease with a microphone, but they are equally fine with the heavy lion heads, with Andy leading the dance and directing Hacken and Eason how to give the greatest poses.
Afterwards, Hacken and Eason then turn into the "Most Popular Fortune Gods" as they present Andy with some lucky packets. Andy greets Hacken: "I hope that your firstborn will be a son and have a mini-Hacken that has the looks and brains of Emily." Then he greets Eason: "I hope that you will continue to shine brightly and warmly along your musical path." Eason and Hacken then greeted Andy in return: "Find a wife soon and have kids, then you can hand out lucky packets too!" With the three men full of warm greetings for each other, it looks like this will be a prosperous year all round!
http://orientaldaily.on.cc/ent/ent_a01cnt.html
Back to top